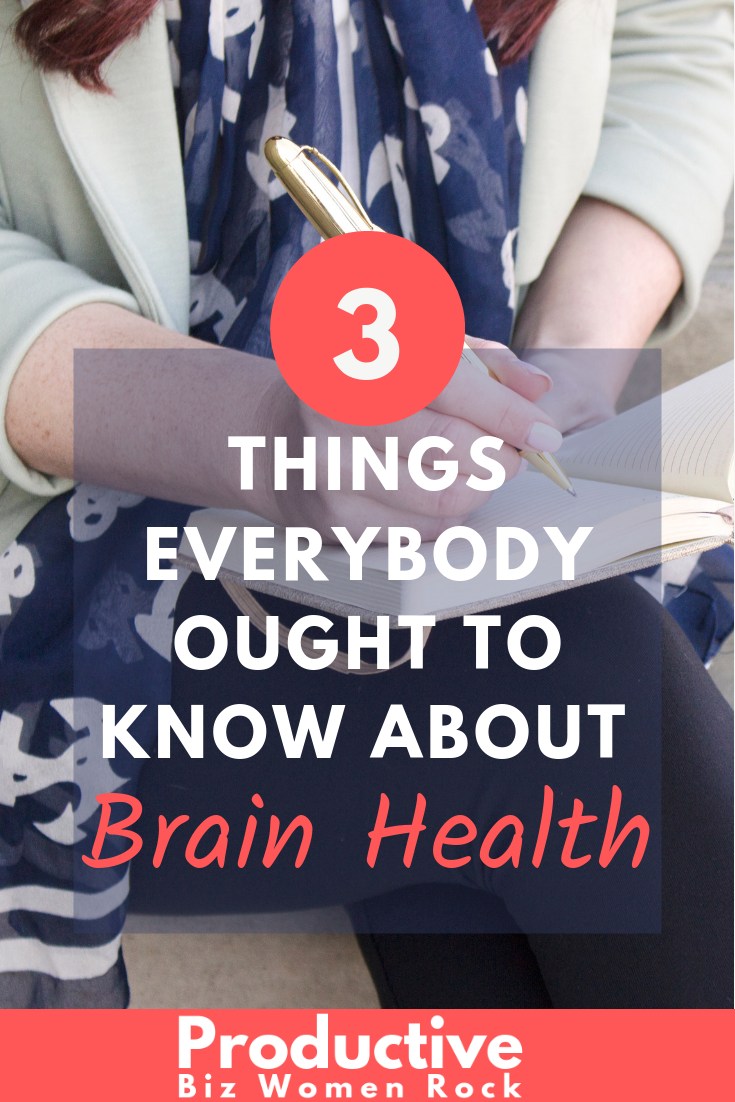 Brain Health is not something you might think about often but you should.
A Healthy brain acts as, in a sense, as your operating system. It helps you to navigate and make sense of the world around you. The term "brain health" refers to how well your brain can perform such tasks as learning, concentrating, remembering, playing, and managing your bodily functions.
During times of stress, particularly busy periods in your life, and as you start to age, your brain will work at differing capacities. Several factors influence your brain's health or how well it functions and performs its necessary duties. Also, there are habits and activities you can engage in that can improve your overall brain health.
Your memory is another component that makes up brain health and influences how you navigate the world. Your mind acts as the filing system of your brain, storing and organizing information learned for later retrieval.
Everything you've ever learned is stored away in your memory.
Approximately 100 billion neurons come together to form your brain. Over time, the neurons form pathways and connections. These connections occur through synapses, which allow the neurons to communicate with each other. Memories are made as the pathways between neurons are strengthened.
To keep your brain and memory functioning in tip-top shape, you need to exercise them and take good care of them regularly. It's true. Though the brain isn't technically a muscle, it has to be taken care of in the same way you work out the muscles and care for the rest of your body.
Your Memory Is Like a Muscle – Work It Out
A healthy brain is one that gets a good workout.
We've touched on the importance of memory as the storage and filing system of your brain.
I'm sure you've encountered frustrating memory lapses such as forgetting why you walked into that room or being unable to remember where you put your keys.
While these types of things are a part of life, you can work to lessen such occurrences by exercising your brain.
Let's take a look at how your memory is like a muscle and the ways you can start to "work it out" to make it stronger.
Work to Improve Current Skills
It's likely you have a set of hobbies you are good at and enjoy. That's wonderful.
You may have noticed that what you love to do has gotten easier over time, possibly less challenging or even boring.
That's because your brain has become accustomed to doing these activities, and new connections aren't being formed in your neuropathways.
You can change that by pushing yourself to push your skills or to pursue more challenging activities in your current hobbies. For example, try an advanced crossword puzzle or learn some new painting techniques.
Switch Up Your Routine
On a similar vein, the things we do every day as a matter of our daily self-care, leisure, household, commute, and work habits can become complacent and boring.
Doing things the same way day after day isn't stretching your brain's limits or causing it to gain new connections.
Try switching things up by attempting the opposite of what you ordinarily do each day. This will cause you to use the other side of your brain for a change.
Use your less dominant hand for things like writing or using your computer mouse.
Take a different way to work. Make a concerted effort to talk to someone new. Watch a documentary instead of your usual Tuesday night sitcom.
Get Physical
Yes, physical exercise also gives your memory a workout. The reason for this is that our brains rely on an adequate supply of oxygen to function well.
When you engage in physical activity, you're boosting the flow of oxygenated blood to the brain. Aerobic exercise like running or cycling work best for ramping up the blood flow.
Take a Class
Learning something new is a sure-fire way to increase brain health and make your memory stronger.
Sign up for a class in something you've always wanted to try or even look up a tutorial online for a start.
Anything that causes you to work your brain in new ways will have the effect of creating additional neural pathways and connections.
Teach What You Know
Another method for upping your brainpower that many people may not realize is to teach something to someone else. Showing someone how to do something causes you to organize the material and to figure out ahead of time how to present it.
These steps lead to increasing your understanding of the information and your ability to recall it with ease.
These are merely a few common ways to keep your memory working and the brain connections forming. Anything new you can add to your routine will probably help.
Have fun adding activities to your memory strengthening regimen and see if you notice a difference in what you're able to remember.
3 Things That Affect  a Healthy Brain
As you learned yesterday, there are lots of things you can do to give your memory a boost.
Along with these exercises, certain lifestyle factors have shown to have a significant impact on how well our brains function.
I want to take some time today to focus on just three things you may not realize contribute to your overall cognitive function. Read on to learn more about these three things that affect brain health.
The Food You Consume
It's true. What you put into your body makes a difference when it comes to brain health. Just as eating a balanced diet is recommended for a healthy body.
Strive to meet healthy dietary intake if you wish to maintain efficient brain functioning.
Along with the following general guidelines for a well-balanced diet, some specific foods have been shown to boost memory and improve focus. Blueberries are one such food. They reduce inflammation and slow down the aging effects on the brain.
Fatty fish contain the omega-3 fatty acids necessary to build brain cells, leading to an improvement in learning and memory.
Dark chocolate is one you may be pleased to know contains several good-for-your-brain compounds, including caffeine and special antioxidants known as flavonoids.
Caffeine increases alertness, sharpens concentration, and improves mood.
Flavonoids boost your memory and hold back cognitive decline. Some other foods to add to your list of brain boosters include broccoli, pumpkin seeds, turmeric, coffee, oranges, nuts, and eggs.
Mental Activity
The amount of activity you subject your mind to heavily influences your brain's function. The approach is that of the "use it or lose it" philosophy.
The more you engage in an activity that involves a particular type of cognitive function, the stronger that function will become. For example, when you exercise your working memory manipulates information in your mind.
You tend to be able to increase these activities over time. There are several benefits to maintaining an active mind.
When regularly engage in activities such as reading, working with brainteasers, engaging in hobbies, and learning new skills, the sharper and more alert you will become, with better recall.
Genetics
Cognitive decline is expected to some extent in everyone. However, the extent of that decline is different for everyone. This has been the topic of many scientific studies in an attempt to determine ways we can delay the onset of conditions such as Alzheimer's and dementia.
Why is it that some people can remain sharp as a tack well into old age while others begin to suffer memory loss earlier? Researchers have shown that a person's genes have a substantial influence on these outcomes.
There are known genetic markers that are associated with cognitive functioning in aging. The existence and combination of these markers play a significant role in the manner in which an individual's brain function is maintained with age.
The information I've just provided is a mere summary of all that's known on these topics, but I wanted to share with you some of te key elements that contribute to your overall brain health.
While some are out of your control, there are a number of preventative measures you can take to keep your mind sharp.
Committing to personal development is a worthwhile investment of your time and resources.
Growing as a person doesn't require formal education or spending a lot of money on workshops by well-known experts.
There are tons of ways to expand your mind and to become a more fulfilled person. The benefits of which are immense.
Reading is key to keeping a fertile and brain.
5 Reasons to Never Stop Learning
1. Avoid Boredom
Boredom is one of the biggest contributors to the feeling of being stuck in a rut. Being bored is a symptom of a mind that is not fully engaged, and it can lead to complacency.
The longer you remain unexcited about the life you're living, the harder it can become to motivate yourself to look for ways to change. Instead, look for ways to stretch your comfort zone.
Make a list of ways to do this. It can include new topics or skills you'd like to learn, types of people you'd be interested to meet, experiences that would delight you or something as simple as a different kind of food you want to try.
Your list should include baby steps and large leaps. Start with the small stuff and work your way to bigger things or mix it up as the mood strikes.
2.  Expand Your Life
By remaining stuck in a rut, you're limiting yourself. You're missing out on new experiences, satisfying relationships, and career fulfillment.
Taking time to learn something about a topic of interest or yourself expands your life through knowledge and opportunity. Each item you place on the list of steps you take toward self-growth adds a little more to your world.
Perhaps it's a new skill that can open up exciting job prospects or maybe it's an encounter with a person who may become a trusted friend.
It could also be an idea or concept that was previously unknown to you, but which could transform your entire belief system.
You never know what beautiful things are out there if you choose to remain where you are.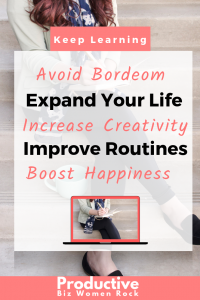 3. Increase Creativity
Your creativity can become stagnant, even if you're a person who likes to create, such as an artist, singer, crafter, or writer.
Sometimes we find our creative outlets take a back burner while we are focused on other aspects of life. That's fine, but it can be incredibly challenging to find your way back to creativity again when it's been absent for a while.
Even if creating has never been at the top of your list, you can benefit from adding a spark of imagination to your life.
Setting aside a specific time to read books or take classes on some form of artistry can inspire renewed interest in you.
Simply deciding to add some new recipes to your usual menu choices can be enough to inspire a change in your outlook.
4. Improve Your Daily  Routines
As you begin to explore various topics of personal development, you may start to notice that your priorities shift.
Something in your exploration is likely to strike a chord and excite you enough that you want to dedicate more of your time to learning about it.
This means you will be forced to step out of your current routine to make time for your new interest. This simple action can be the catalyst for additional changes to come.
5. Boost Happiness
Through your exposure to novel ideas and information, you are bound to come across experiences, people and, hopefully, passions that may shift your worldview.
You may begin to appreciate nonmaterial things more and start to focus on the joy that comes from such riches. These are the things happiness is made of.
Continuous learning and growing can provide you with multitudes of benefits. These are just a handful. Hopefully, you now have the motivation to commit yourself to your journey of self-discovery.