Introduction
Narcissistic abuse can have a profound impact on a person's mental, emotional, and even physical well-being. It can leave individuals feeling shattered, vulnerable, and trapped in a cycle of despair. However, it's crucial to understand that narcissistic abuse doesn't have to be a life sentence. Recovery, healing, empowerment, and self-discovery are all attainable goals that can lead you to a brighter future.
Understanding Narcissistic Abuse
Before delving into the journey of healing and empowerment, it's essential to comprehend what narcissistic abuse entails. Narcissistic abuse is a form of psychological manipulation where an individual with narcissistic traits exerts control over another person, often leaving the victim feeling belittled, devalued, and powerless. This type of abuse can occur in various relationships, such as romantic partnerships, familial ties, friendships, or even in the workplace.
The Road to Recovery
Recognizing the Signs: The first step towards recovery is recognizing the signs of narcissistic abuse. This might include constant criticism, manipulation, gaslighting, isolation, and emotional volatility. Acknowledging that you are in an abusive situation is a powerful act of self-awareness.
Seeking Support: Healing from narcissistic abuse doesn't have to be a solo journey. Reach out to friends, family, support groups, or therapists who specialize in trauma and abuse. These individuals can provide invaluable guidance, validation, and a safe space to share your experiences.
Embracing Healing and Self-Discovery
Prioritizing Self-Care: Healing begins with self-care. Engage in activities that bring you joy, relaxation, and a sense of well-being. This could be practicing mindfulness, engaging in creative pursuits, or spending time in nature. Prioritize your mental and physical health.
Exploring Therapy: Professional therapy is a cornerstone of recovery. Therapists experienced in trauma can help you work through the emotional scars of narcissistic abuse. Techniques like cognitive-behavioral therapy (CBT), dialectical behavior therapy (DBT), and EMDR (Eye Movement Desensitization and Reprocessing) can be particularly effective.
Empowerment Through Self-Rediscovery
Setting Boundaries: One of the most empowering steps is establishing and enforcing boundaries. Learning to say "no" and defining what is acceptable behavior in your relationships cultivates self-respect and sets the stage for healthier connections.
Rediscovering Passions: Narcissistic abuse often leads to a loss of self-identity. Take this time to rediscover your passions and interests. Engaging in activities that make you feel alive can aid in rebuilding your self-esteem.
The Journey of Empowerment
Shifting Your Perspective: While the scars of narcissistic abuse may never completely fade, you can shift your perspective from being a victim to being a survivor. Acknowledge your strength in overcoming adversity and celebrate your resilience.
Fostering Gratitude: Practicing gratitude can transform your outlook on life. Focus on the positive aspects and the lessons you've learned through this experience. Every step you take towards healing is a victory worth celebrating.
Embracing the Future
Recovering from narcissistic abuse is a journey, not a destination. It's about taking incremental steps towards healing, self-discovery, and empowerment. As you continue on this path, remember that your past does not define you; it's a chapter that contributes to your growth and wisdom.
Conclusion
Narcissistic abuse might cast a long shadow, but it doesn't have to dictate the rest of your life. Through dedicated recovery efforts, prioritizing healing, embracing self-discovery, and nurturing empowerment, you can break free from the chains of abuse. Remember, you have the strength within you to not only survive but to thrive. The journey won't be easy, but it will be worth it as you reclaim your life and build a brighter, empowered future filled with self-discovery and growth.
Are you tired of feeling confused, hurt, and manipulated by the people in your life? Are you worried that you might be stuck in a toxic relationship with a narcissist?
If so, I have great news for you. I have created a free Narcissist Red Flag Checklist that will help you identify the warning signs of a narcissist and protect yourself from toxic behavior.
This checklist is based on years of research and experience and is designed to give you a clear and concise understanding of the warning signs of a narcissist. It covers everything from the classic red flags, such as grandiosity, lack of empathy, and manipulation, to more subtle signs that are often overlooked.
By downloading this checklist, you will be able to:
Recognize the red flags of a narcissist in any relationship
Protect yourself from toxic behavior
Gain a deeper understanding of narcissistic personality disorder
Learn how to set boundaries and take control of your life.
Don't let a narcissist control your life any longer. Download my free Narcissist Red Flag Checklist today and take the first step toward healing and empowerment.
By downloading this checklist you will have the tools to avoid getting into a relationship with a narcissist or to identify if you're already in one. And if you are, you will have the knowledge to take the necessary steps to improve your situation.
It's time to put an end to the confusion, hurt, and manipulation. Download my free Narcissist Red Flag Checklist now and start taking control of your life.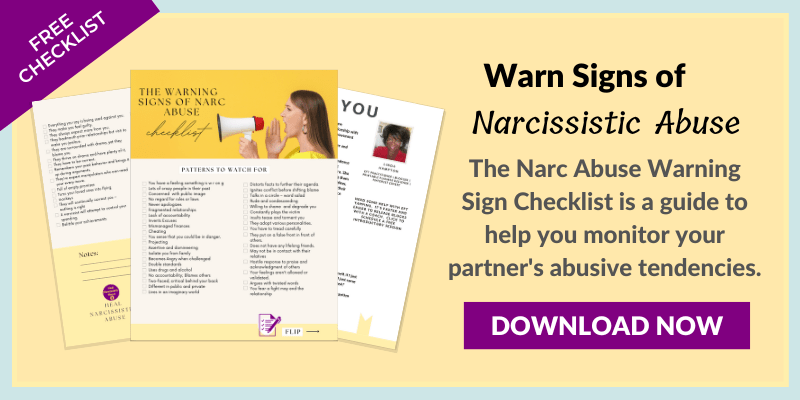 /